Nope, I am not going to start quoting Romeo and Juliet.
But I am serious, What's in a Name?!
When you started your blog how did you come up with your amazingly creative name?!
I have been very attentive lately and have been paying attention to everyone's names.
I look at mine and think... how does this appeal to me? This name doesn't say who I am, what I like to do, It's just the name of my etsy shop...
Let me give you some examples of perfect names...
Little Miss Momma - She is little and she is a momma! Duhh TOTALLY works! (did I mention she has an awesome blog?!)
Happy Together - This lady is ALWAYS happy and she loves her little ones!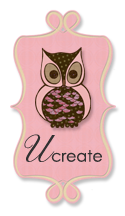 Ucreate - An awesome website that shows U how to CREATE!
How did these lovely ladies get so creative with their names?! I definitely don't know but one things for sure....
I need to get me an name like that!

How did you come up with your blog name?Any tips or suggestions?!